Precast Reinforced Concrete

U-Shape Drain With and Without Dry Weather Flow
Design and Specification
Standard :

Designed to the BS 8110 : 1985.

Concrete Strength :

30 N/mm2 - 40 N/mm2.

Concrete Cover :

Standard Size U Drains - 25mm.
Super Size U Drains - 30mm
Standard Size U-Shape Drain
Nominal Size(mm)
Common Dimensions
Without DWF
With DWF
b
h
B
t1
t2
H
Hs
e
c
300
300
430
65
65
365
430
65
150
375
375
505
65
65
440
505
65
150
450
300
590
70
75
375
455
80
300
450
590
70
75
525
605
80
300
600
225
750
75
80
305
385
80
300
300
750
75
80
380
460
80
300
450
750
75
80
530
610
80
300
600
750
75
80
680
760
80
300
750
300
910
80
90
390
470
80
300
450
910
80
90
540
620
80
300
600
910
80
90
690
770
80
300
750
910
80
90
840
920
80
300
900
300
1060
80
90
390
470
80
450
450
1060
80
90
540
620
80
450
600
1060
80
90
690
770
80
450
750
1060
80
90
840
920
80
450
900
1060
80
90
990
1070
80
450
1200
300
1380
90
100
400
625
225
1075
450
1380
90
100
550
775
225
1075
600
1380
90
100
700
925
225
1075
750
1380
90
100
850
1075
225
1075
900
1380
90
100
1000
1225
225
1075
1050
1380
90
100
1150
1375
225
1075
1200
1380
90
100
1300
1525
225
1075
1500
600
1720
110
120
720
945
225
1075
750
1720
110
120
870
1095
225
1075
900
1720
110
120
1020
1245
225
1075
1050
1720
110
120
1170
1395
225
1075
1200
1720
110
120
1320
1545
225
1075
1350
1720
110
120
1470
1695
225
1075
1500
1720
110
120
1620
1845
225
1075
1800
600
2030
115
120
720
945
225
1075
750
2030
115
120
870
1095
225
1075
900
2030
115
120
1020
1245
225
1075
1050
2030
115
120
1170
1395
225
1075
1200
2030
115
120
1320
1545
225
1075
1350
2030
115
120
1470
1695
225
1075
1500
2030
115
120
1620
1845
225
1075
1650
2030
115
120
1770
1995
225
1075
1800
2030
115
120
1920
2145
225
1075
Super Size U-Shape Drain
Nominal Size(mm)
Common Dimensions
Without DWF
With DWF
b
h
B
t1
t2
H
Hs
e
c
2100
1200
2460
180
180
1380
1605
225
1075
1500
2460
180
180
1680
1905
225
1075
1800
2460
180
180
1980
2205
225
1075
2100
2460
180
180
2280
2505
225
1075
2400
1200
2760
180
180
1380
1605
225
1075
1500
2760
180
180
1680
1905
225
1075
1800
2760
180
180
1980
2205
225
1075
2100
2760
180
180
2280
2505
225
1075
2400
2760
180
180
2580
2805
225
1075
2700
1500
3060
180
180
1680
1905
225
1075
1800
3060
180
180
1980
2205
225
1075
2100
3060
180
180
2280
2505
225
1075
2400
2760
180
180
2580
2805
225
1075
2700
1500
3060
180
180
1680
1905
225
1075
1800
3060
180
180
1980
2205
225
1075
2100
3060
180
180
2280
2505
225
1075
2400
3060
180
180
2580
2805
225
1075
2700
3060
180
180
2880
3105
225
1075
3000
1500
3360
180
180
1680
1905
225
1075
1800
3360
180
180
1980
2205
225
1075
2100
3360
180
180
2280
2505
225
1075
2400
3360
180
180
2580
2805
225
1075
2700
3360
180
180
2880
3105
225
1075
3000
3360
180
180
3180
3405
225
1075
3300
1500
3660
180
180
1680
1905
225
1075
1800
3660
180
180
1980
2205
225
1075
2100
3660
180
180
2280
2505
225
1075
2400
3660
180
180
2580
2805
225
1075
2700
3660
180
180
2880
3105
225
1075
3000
3660
180
180
3180
3405
225
1075
3300
3660
180
180
3480
3705
225
1075
3600
1500
3960
180
180
1680
1905
225
1075
1800
3960
180
180
1980
2205
225
1075
2100
3960
180
180
2280
2505
225
1075
2400
3960
180
180
2580
2805
225
1075
2700
3960
180
180
2880
3105
225
1075
3000
3960
180
180
3180
3405
225
1075
3300
3960
180
180
3480
3705
225
1075
3600
3960
180
180
3780
4005
225
1075
Loading, Jointing &amp Handling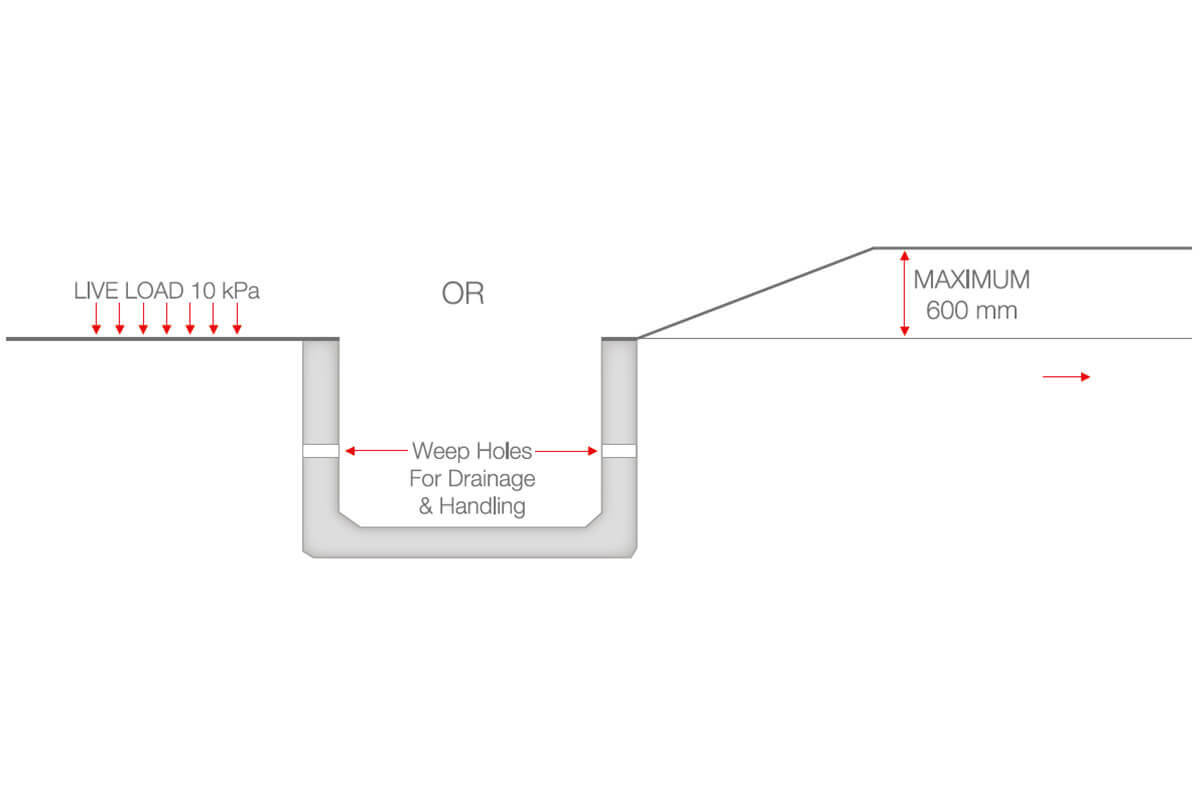 Loading
Soil Parameters Used :
Angel of Internal Friction 30
Coefficient of Active Earth Pressure 0.33
Bulk Density of Compacted Backfill 18 kN/m3
Free Draining Granular Backfill Behind Wall
Jointing
50mm diameter weep holes are provides for drainage of the retained soil which when combined with the butt jointed unis, prevent then build up of hydrostatic pressures.
As such, the design does not take into consideration hydrostatic pressures.
Handling
The weep holes provides in the U shape drain units double up as lifting holes for handling.
A spreader beam should be used when sling the units to avoid cracking at junction of side wall and base slab.